FDA Emergency Use Authorized
Non-Invasive At Home Self Test With No Discomfort
Approved in the USA for Non-Clinical or Home Use
Simple and easy, the iHealth COVID-19 Antigen Rapid Test is an very accurate and reliable At Home SARS-CoV-2 nucleocapsid protein antigen designed for regular family use. It only takes 4 steps and 15 minutes to complete the test. You won't need to collect a sample from deep in your nasal cavity to get accurate results.
Each iHealth COVID-19 Antigen Rapid Test kit includes 2 tests. Each test contains an individually sealed highly-absorbent swab to prevent contamination so you can view the results of your in-home test with confidence.
Compact and easy to store or carry, test yourself whenever you may be at risk or experience symptoms.
ORDER & DELIVERY
Contact Vennwest Sales For Quotes Or Orders
Products Delivered In As Little As 72 Hours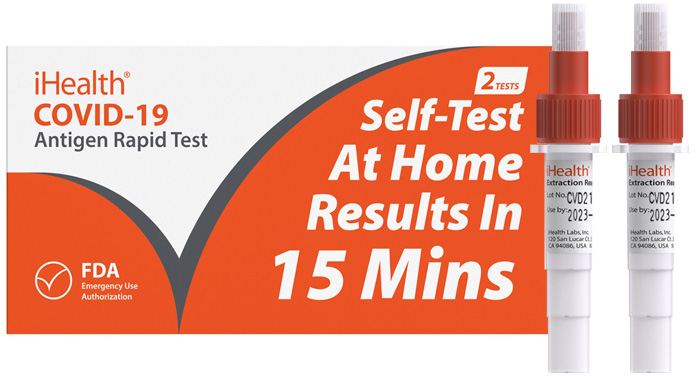 Rapid Test Details
Highly-Absorbent Swab
Made of PU foam, the absorbent tip of the swab makes sample collection more efficient than a regular swab.
Easy-to-Understand Results
The unique test card shortens the time to get your results and makes them easy to read. If only the C line shows up, the test is negative. If both C and T lines show up, the test is positive.
Double-Cap Security Design
The double-cap design allows you to safely store the liquid and then precisely drip the mixed sample onto the test card.
Region: USA
Authorized Settings: Home Self Testing, Over The Counter
FOB Pricing
Pricing Varies w/ Quantity and Current Market Conditions
Contact Us For Quotes of 500,000 Quantity & Over
ORDER & DELIVERY
iHealth is not yet available through our Online Portal.
Please use our Client Order Form to order.
ORDER NOW
Use Our Client Purchase Form Or Email Vennwest Sales Below